Portfolio
Slippery Rock Student Housing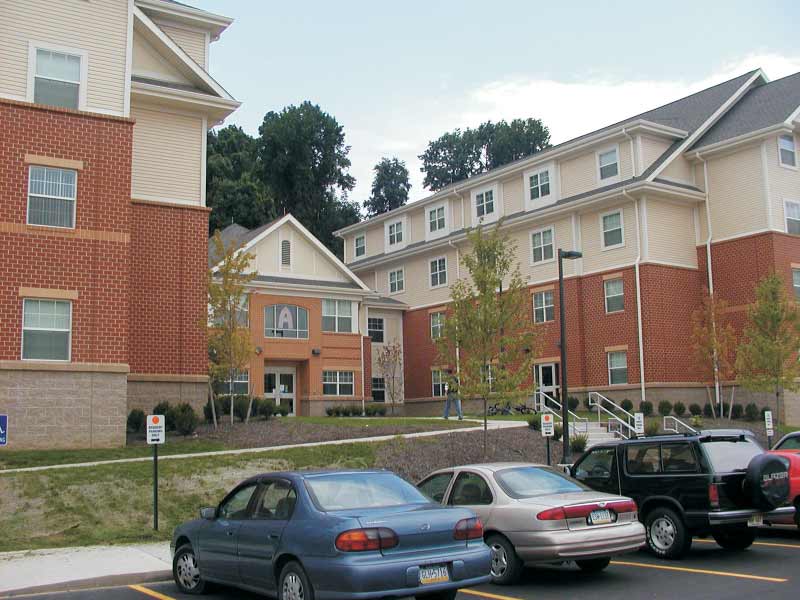 Project Details:
Project Size: 1,230,000 Sq. ft. 2,900 beds
Project Cost: $11,000,000


Slippery Rock University, On-Campus Student Housing Project - Exciting new construction of six dormitories to house students in a modern suite environment. The LEED 2.1 Certified student housing facilities include living, study, lounge, recreation, office and multipurpose use areas.
LEED v2.1 Certified.
BDA responsible for MEP LEED Documentation, Energy Modeling, Energy Analysis and Fundamental Commissioning.
Mechanical system design included a water source heat pump solution utilizing a 2-pipe condenser water loop strategy, variable speed pumping systems and DDC controls.
24 hour ventilation is provided through a 100% outside air heat pump unit utilizing total energy recovery from the cumulative building exhaust system.
Condenser water loop heating is provided by campus steam through use of a steam to hot water heat exchanger in five of the six buildings. The sixth utilizes a highly efficient condensing boiler plant.
Campus steamis used for domestic hot water through utilization of steam to hot water convertors.
Electrical design included 12,470 volt underground site power distribution, site lighting and emergency generator power systems as well as building power and lighting distribution.
Wet-pipe sprinkler systems are designed to NFPA-13R.
BDA was responsible for site utility service distribution, including power, steam, water, gas and storm.
Additional BDA design responsibility included Intercom/Security, Telephone and Cable TV.